Accept Online Payments
Never miss a sale
Start accepting online payments and keep your business running 24/7. Our secure payment options get you started easily & give your customers flexibility of choice.
Get Started
Learn More

Easy sign up
Want to get Online Payments or find out more? Share your details below and we'll gets started in less than 24hrs.
Options to get you started
Below are 3 ways you can start accepting Online Payments for your business.
How it Works!
3. Get Started
Start collecting Card and Mobile payments from your customers through a simple, secure and reliable process.
4. Receive Funds
Login to your Account and withdraw funds at your convenience. Funds will be settled within 2 Business days.
Business Solutions
Manage your payments better using solutions that enhance your customer's experience.
Simple
With our easy-to-use process and the seamless payment process, we make it easy for you to collect payments, anywhere you do business. With your easy –to-use business account, you can collect credit card, debit card, and mobile money payments.
Secure
Your security and that of your customers is at the heart of everything we do. We offer world-class fraud screening to protect your business and your customers. We are also PCI DSS compliant to help you safeguard your business and increase customer confidence.
One-stop-shop
We provide the best end-to-end solution for your business. Be it card or mobile money payments, our solution cuts across all these options. As a business, you also have unlimited access to our ecosystem to help you grow your business
Connect your e-commerce Website
Pesapal online payments can connect to most e-commerce platforms through a simple process of installing a plugin into your current website, making integration so easy and at no additional cost.
Download plugins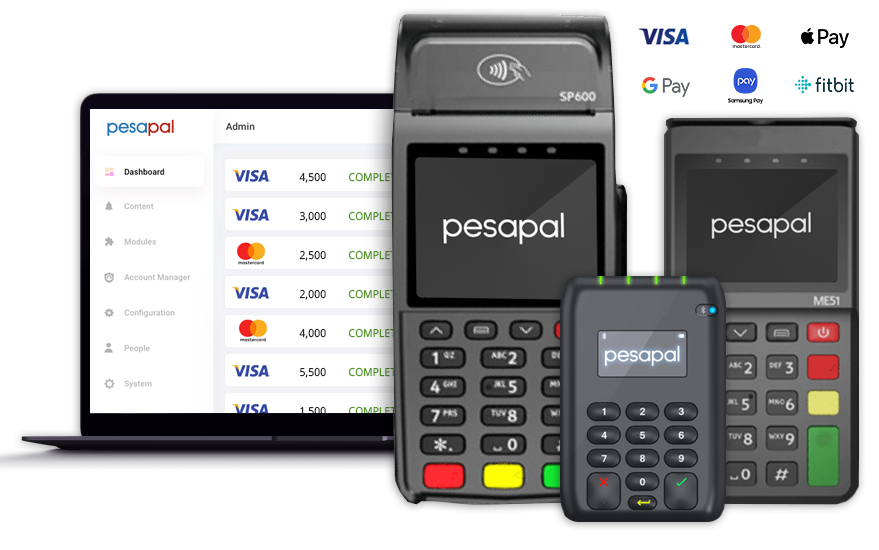 Payments on Delivery
Accept Card and Mobile Payments as you deliver on your Pay on Delivery Orders. Pesapal Sabi is a Point of Sale (POS) Terminal that simplifies how you accept Card and Mobile Payments, with the ability to view transactions in real-time from one dashboard.
Learn More
Request for Terminal
What's your Business?
Leverage on the diversity of the Pesapal ecosystem.