Channel Manager for Hotels: What It Is & How To Find One That Works For You
On 19 July 2019
S
Channel Management is the process through which hotels manage Online Travel and Booking agents in order to sell hotel inventory globally.
It is an effective way of reaching a global audience without risking overbookings and client dissatisfaction. A channel manager will instantly and automatically update rates and availability on all channels, saving the property manager a lot of time and reducing booking mistakes during the reservations booking process.
How it Works
This software can be used in the distribution of various accommodation types such as hotel rooms, B&B's and small vacation rentals. It enables you to partner with large agents such as Online Travel Agents(OTA's) as well as smaller retail agents in different markets. Your inventory is updated automatically across all of your channels, so that guests have accurate information no matter where they are booking from. At its core, a channel manager creates a two-way connection between a hotel's property management system and their chosen marketing and sales channels.
What to look out for
Globally there are over one hundred channels in which you can choose from. However as you make a choice for your hotel, you need to select one that will be lines up with your operations as a business and integrates seamlessly with your existing tools. A channel manager should provide analytics and reporting tools to help you gain greater visibility into how your business is doing. It should have the ability to collect and maintain booking data across all channels and present it in charts, diagrams and other graphic forms. It should also be able to define high and low-performing channels and adjust their distribution strategy.
Other factors that can inform your decision include:
Size of your hotel:

A big hotel, will require a more powerful channel manager compared to a small one because of all the bookings that will be involved between the OTA and the hotel. You'll also need one that has a faster processing system.

Current Software Used:

Not all applications are compatible with all channel managers. You need to find one that will integrate seamlessly with any property management system or booking engine you have already in place.

Needs & Expectations:

Before looking for a channel manager evaluate your operations. Do you have lots of rooms and packages with differing rates based on add-ons? E.g All Inclusive, Full Board + Activities, Child Friendly rooms. You need a channel manager that is able to deal with all these intricacies. Finally analyze how much data you need from the portal and how well your staff is able to interact with the system.

Budget:

Different channel managers have different rates based on the available features. Some may charge a set up fee while others have a maintenance cost attached to them. You need to find one that suits your budget while delivering on all your complex needs.
At Pesapal, we offer Reserveport, an online booking engine and reservations management tool. Accompanying this booking engine is a channel manager that enables you to manage your inventory with OTAs such as Expedia, AirBnB and Booking.com.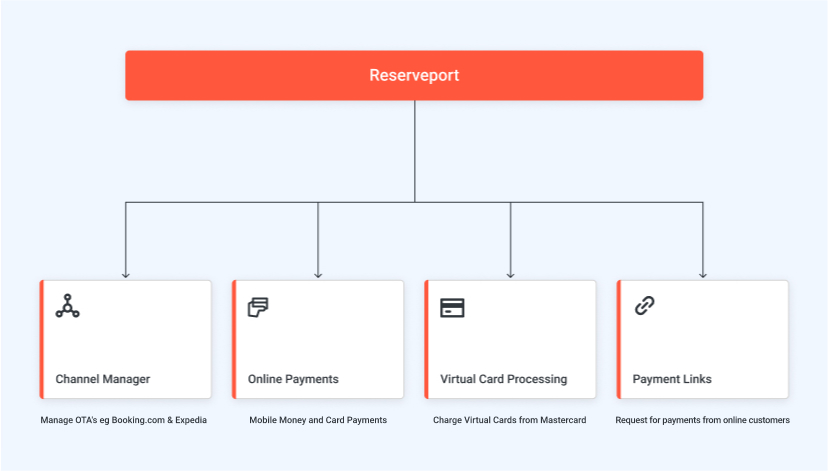 Reserveport also supports online payments via mobile money (Airtel Money, Tigo Pesa, Vodacom, MTN Money & MPesa) and card payments via Visa, MasterCard and American Express. You are also given access to a virtual card processing tool that enables you to charge cards from any OTAs you work with. Your staff can also send payment links from the back end to enable online guests to pay for rooms in full or make deposits. You also have the option of generating discount codes to support any marketing or sales campaigns you may be running.
Kaskazi Beach Hotel is an example of a hotel that has been using a channel manager that Reserveport provided for them. During a conversation with Shadrack Musango who is a manager of the hotel, he said that the channel manager has enabled him to keep track of all the bookings he gets from the different online travel agents. This has made his work easier as he can manage all his inventory on one platform which saves him time and improves efficiency in reservations management.
Reserveport can be customized based on your hotel's unique needs to include rooms, rates and any additional activities and packages you may have.
Pesapal for Hotels: Channel Manager
Find out more about how Reserveport and Pesapal can help you find the best Channel Manager for your hotel
Get Started