Pesapal Authorized by the Central Bank of Kenya - What it Means & Why it Matters
On 5 August 2021
E
In June, 2021, Pesapal received the Payment Service Provider (PSP) authorization from the Central Bank of Kenya (CBK).
 Then came the big question; What does this mean?
In this blog, we'll break down what the CBK authorization means for Pesapal and the benefits for both individual consumers and businesses using Pesapal's payment solutions.
How Does Pesapal Work?
Over the past 15 years, a growing number of payment options have been made available to individuals. TelCos rolled out mobile money to the unbanked, filling the gap left by banks issuing ATM cards. In order to compete effectively, mobile banking apps for smartphones gained momentum as internet penetration grew, hence allowing customers to easily access and  manage their bank accounts. 
For businesses to benefit massively from this trend, it is in their interest to ensure  consumers can pay however and whenever they want. This however means sunk costs for businesses intending to create proper payments infrastructure in order to offer all the payment options ; not to mention vulnerability from security issues such as fraud.
Founded in 2009, Pesapal identified this gap by connecting to multiple payment options such as the leading card networks and mobile money networks. In this way, we have created a payment gateway with all the payment options to enable in-store payments at point of sale and online checkout on one platform.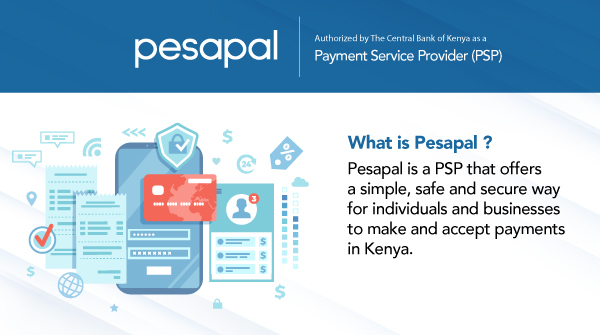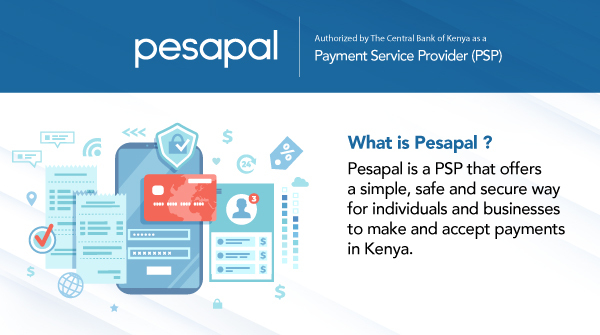 By enlisting our services as a PSP, business owners are assured of safe and secure transactions and consumers enjoy the convenience of multiple payment options.

What is a Payment Service Provider (PSP) 
Under the  National Payment System Act, 2011, one of the definitions of a PSP is defined as "a person, company or organisation acting as provider in relation to sending, receiving, storing or processing of payments or the provision of other services in relation to payment services through any electronic system"
Simply put, Pesapal as a PSP, offers business owners the support they need to access digital payments such as ATM cards and mobile money. They can seamlessly receive multiple payment forms, consolidate and process them on a single platform. For individuals, Pesapal endeavours to simplify the processing of payments by providing a variety of options and convenience.
Benefits of CBK Authorization
To qualify for authorisation, Pesapal was required to meet all the conditions listed in National Payment System Act, 2011 and the NPS Regulations, 2014.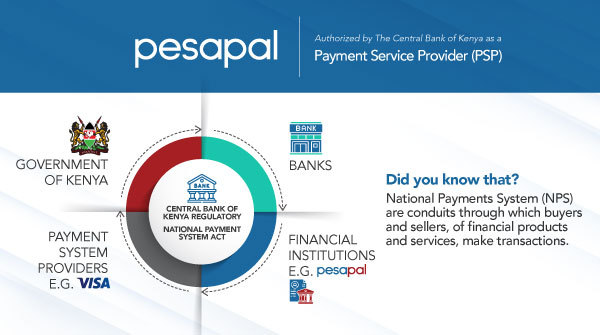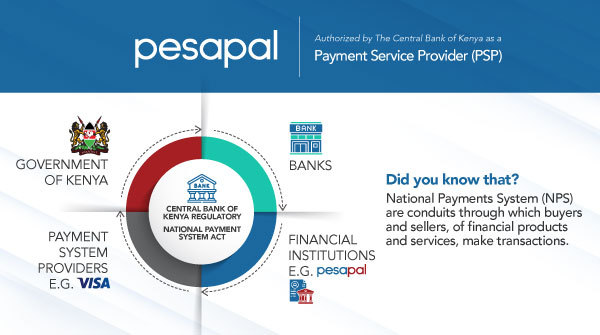 In order to understand how this authorization is beneficial to merchants and individual customers, we shall quote 4 regulations to guide:
Avail Clear Terms & Conditions of Services Offered by Pesapal
"A payment service provider shall provide a clear and understandable description of the services which it offers and the rates, terms, conditions and charges for such services and shall publish such information and display it prominently at all points of service"
Assure Credibility of Merchants in Pesapal's Ecosystem
"A payment service provider shall use systems capable of screening transactions for the purposes of complying with Proceeds of Crime and Anti-Money Laundering Act, 2009, Prevention of Terrorism Act, 2012, and related legislation."
Assist Readily Customers & Merchants
"A payment service provider shall provide its customers at the point of service with … a telephone number or such other contact medium which provides access to its customer care system."
Accessibility of Funds Handled in Pesapal's Ecosystem 
"A payment service provider of the payee, if any, shall, without undue delay after the amount transferred through an electronic retail transfer is credited to the payee's payment account or paid to the payee"
Why Choose Pesapal for Your Business & Bill Payments 
Obtaining this authorization by the CBK ensures protection for both individual customers and businesses by ensuring that all transactions are processed securely.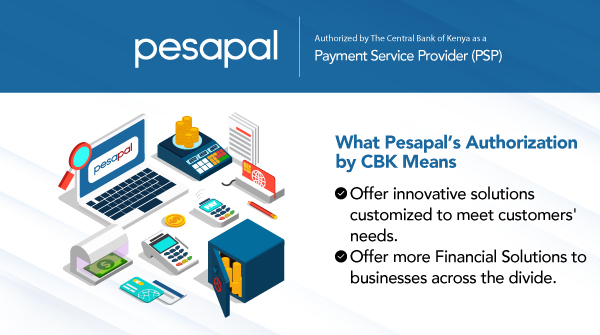 Given the nature of our business , the authorization by the Central Bank of Kenya comes as a failsafe for customers and businesses who use our services knowing their money is safe. For Pesapal, we can continually innovate and launch products that solve problems for businesses of all sizes within a trusted mature financial environment.