Best Online Payments For Restaurants
On 1 June 2023
A
Online payments have become vital to the restaurant industry, providing customers with a seamless, reliable, and stress-free experience. With just a few taps on their smartphones, customers can pay for their meals quickly and easily without the hassle of handling physical currency.
The restaurant industry underwent a significant transformation during the COVID-19 pandemic as many businesses were compelled to implement new safety protocols and guidelines to safeguard their customers and employees. Among the most significant changes was the complete overhaul of payment methods, with the rapid adoption of contactless and online payments. 
In the aftermath of the initial lockdowns, many customers were understandably apprehensive about handling physical currency or touching shared payment devices. Numerous restaurants swiftly introduced online payment systems to address these concerns, allowing customers to pay for their orders through smartphones or other electronic devices. 
During that difficult time, through the Pesapal hospitality solution, we provided crucial support to restaurants and helped them stay afloat by introducing innovative solutions like Reserveport for Restaurants. Reserveport for Restaurants is a comprehensive online ordering system that enables restaurants to reach customers who prefer ordering out. By offering a seamless online ordering experience, restaurants can attract a broader customer base, including those who may feel uncomfortable dining in public spaces. Reserveport also enables restaurants to receive direct orders through their websites, eliminating the need for third-party platforms. This helps restaurants retain control over customer relationships and reduces commission fees associated with third-party booking systems. 
Online payment is the future of restaurant payment.
A global survey of more than 5,700 consumers across 11 geographies indicates that cash remains the preferred payment method for many individuals, with 44% saying cash makes them loyal to the brand. However, there has been a significant shift in consumer behavior due to the pandemic, with 81% of individuals planning to reduce their use of cash compared to pre-pandemic times. Instead, there is a growing preference for contactless payment options such as Apple Pay and Google Pay, which 40% of individuals prefer. While still a relatively small percentage, alternative payment options like cryptocurrency are slowly emerging, with 4% of individuals indicating a preference for this method.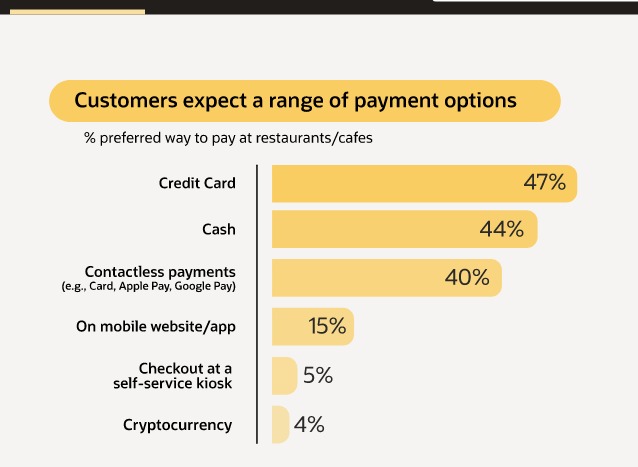 The restaurant Delivery Consumer Trend Report by BentoBox projected a 60% increase in online food ordering activity in 2022, and the trend to continue in subsequent years. The report further indicated that 42%  of dinners plan to order directly from restaurants, which is three times more than those who order from third-party apps (14%). The report further indicates that Friday is the most popular day for takeout and delivery, with 68% of diners choosing this day, followed by Saturday at 56%. Sunday and Wednesday are popular choices, with 31% and 23% of diners preferring to order on those days. 
Based on the reports about payment methods and ordering trends, it is reasonable to infer that online payments for restaurant transactions will continue to grow in popularity. With the adoption of digital payments accelerating and the increasing preference for contactless payment options, more consumers will likely opt for online payment when ordering food from restaurants. Additionally, the trend of diners ordering more food online, mainly through direct ordering from restaurants, further reinforces the potential for increased usage of online payment methods. However, it's important to note that cash and traditional payment methods are still widely used and may continue to be preferred by specific individuals, so restaurants may need to offer various payment options to cater to all customers. 
Restaurant payment system 
A restaurant payment system manages the process of taking meals and orders and payments in a restaurant. Here is a brief description of how restaurant payment systems work: 
Payment processing: Payment processing can be done manually or through an electronic point of sale (POS) system. In a manual system, the server or cashier accepts payment from the customer and provides change if necessary. In an electronic POS system, the customer's payment information is entered into the system and processed automatically. 
Authorization and verification: For credit/debit card payments, the payment processing system requests authorization from the customer's card issuer for credit/debit card payments to ensure the payment is valid and has sufficient funds. 
Receipt: After the payment is processed and approved, the restaurant provides the customer with either a paper or an electronic receipt. 
Payment processing for restaurants
Traditional payment processing methods often come with hidden fees and long-term contracts, resulting in expensive processing fees depending on the payment type. However, Pesapal aims to make payments more convenient and cost-effective for all businesses. Our end-to-end payment processing solution has no hidden charges making it convenient for restaurants to do business without the fear of being over-charged. 
Online payment methods for restaurant 
Online payment methods have revolutionized the way people in Kenya, Uganda, and Tanzania make payments. The most commonly used payment method are mobile money transfer services. In Kenya, Safaricom's M-Pesa and Airtel Money are the dominant players, while Uganda has MTN Mobile Money and Airtel Money, and Tanzania has Vodacom's M-Pesa and Tigo Pesa. Besides mobile money, credit/debit card payments are also widely used. We suggest the following methods of accepting online payments. 
Mobile payments 
Mobile payment is popular in East Africa, with Mpesa, Airtel Money, MoMo, and Tigo Pesapa being the most preferred. Customers can select mobile money as their preferred payment option during the checkout process, and they will receive a payment request on their mobile phones. They can then authorize the payment by entering their PIN, and the transaction will be completed. Customers can also make payments using their mobile devices through apps like Apple Pay, Google Pay, or Samsung Pay. In addition, customers can store their credit or debit card information in the app and then use their devices to make payments at the restaurant. 
QR codes 
QR codes (Quick Response codes) are two-dimensional barcodes that can be scanned using a smartphone camera to retrieve information or execute a function, such as making a payment. QR codes have become increasingly popular for payment transactions because they offer a convenient, secure, and contactless payment method. In a payment transaction using QR codes, the customer scans a QR code displayed by the merchant with their smartphone camera. The QR code contains all the necessary payment information, such as the payment amount and the recipient's details. The customer then confirms the payment by entering their PIN. 
Credit/debit cards:  
While not strictly an online payment method, restaurants can also offer the option for customers to pay using their credit or debit cards online through their website or mobile app. For example, the customer places an order through the restaurant's website or mobile app, selects the items they want to order, and proceeds to checkout. The customer then selects the payment method as credit or debit card and enters their card details into the payment gateway. Accepting card payments online enables restaurants to receive Mastercard, Visa, and American Express payments. 
O

nline payment

s

for restaurants can offer several benefits

, including:
Convenience: Online payment methods, such as credit/debit cards or mobile payments, offer customers a fast and convenient way to pay for their meals. Customers can pay for their orders quickly and easily without needing cash or other payment methods. 
Increased sales: Online payment options can improve sales and revenue for restaurants. Customers may be more likely to order from a restaurant that offers online payment options, and they may also be more likely to spend more money on their orders. 
Security: Online payment systems use advanced encryption and security measures to protect customer payment information. This can help prevent fraud and protect customers' personal and financial data. 
Efficiency: Online payment systems can streamline payment processing and reduce customer wait times. Restaurants can process payments more efficiently, reducing the time and resources required for manual payment processing. 
Improved customer experience: Online payment options can improve the overall customer experience by providing a seamless and convenient payment process. Customers can quickly pay for their meals without any hassle, which can help improve customer satisfaction and loyalty. 
Reporting and analytics: Online payment systems can provide detailed reports and analytics on transactions, allowing restaurants to track sales and revenue, identify trends, and make data-driven decisions to improve their business. 
Get Paid Online Securely
Get Pesapal's Reserveport for Restaurants Today
REQUEST DEMO