How To Choose The Best POS Terminal For Your Business
On 16 February 2022
A
Choosing the right point of sale (POS) terminal for your business can be tasking due to the variety of machines available in the market.
Therefore, business owners should do a proper background search before purchasing a terminal. This helps to ascertain the best POS terminal for your business and avoid buying the wrong PDQ machines.
PDQ machines play a pivotal role in the shopping journey, hence, they should be user-friendly to both the cashier and the customer. The most important thing to the finance person about the POS is reconciliation and reporting. The POS machine should be able to provide accurate sales reporting with minimal errors.
On the other hand, a customer's concern is the security of their card details and efficiency. For a while now, there have been reports of customers opting to make payments using cash for fear of losing their card details to fraudsters.
Here's a definition of POS, types of POS, and a start-to-finish guide on how you would decide which is the best POS terminal for your business.
What is a POS
A Point of Sale (POS) machine is a device that enables businesses of all sizes to accept card and mobile payments from customers. Pesapal POS machines have morphed over time in order to address the ever-rising business challenges. The machines are frequently updated with new features to make sure that they align with the latest market trends. Below are types of POS machines by Pesapal
Type of POS Machines by Pesapal
Pesapal's card payments journey began in 2017 when the mobile Point of Sale (mPOS) was launched. The mPOS is small in size, with the ability to process Mastercard and Visa cards. The mPOS works with the Sabi android application where it is paired to the app and the transactions are done similarly to the Sabi terminal.
The Sabi POS terminal is the most popular in the market. It has superior functionalities compared to Pesapal Sabi mPOS as it can be integrated into a point-of-sale/property management terminal. This ensures a smooth checkout process and a seamless payment process. It also has dual sim capability that helps you stay connected to both Wi-Fi & Mobile Data.
In 2021 Pesapal launched a game-changer smart terminal dubbed the Pesapal Sabi Smart POS that runs on the Android Operating System (OS). This terminal was designed with the end-users in mind to enable both the customer and merchant to use the terminal with ease. Pesapal Sabi Smart accepts VISA, mVISA, Mastercard, and mobile money payments.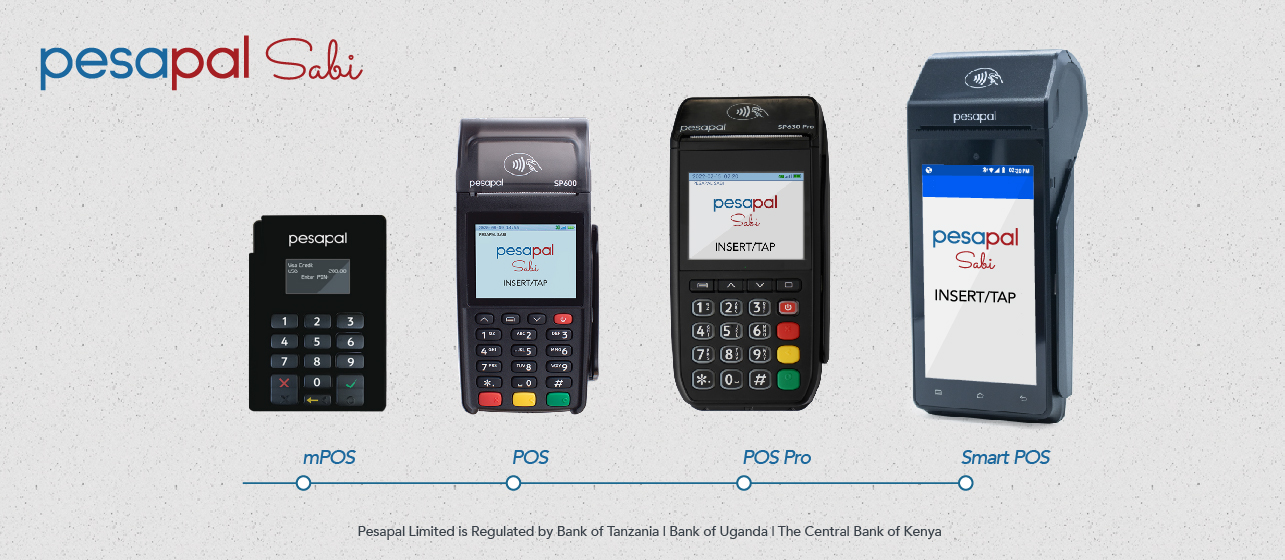 Who Needs a POS Terminal?
All businesses that target customers with debit/credit cards to make payment need a POS terminal. However, if you have a machine that only processes card payments you might be forced to upgrade to the Pesapal Sabi Smart POS that processes both card and mobile money. According to a report by the country's apex bank, mobile money transactions increased by over 52% (Sh 3.26 trillion) in the year 2021. This is a call for all businesses to ensure they don't lose the mobile money transactions.
Below are sectors that Pesapal has specialized in:
Bars and Clubs: The best POS for bars and clubs should be able to champion a faster and more secure payment process. The main challenge which club owners face is internal fraud, thus POS machines should be able to address this problem fully.
Things One Should Consider When Choosing a POS Terminal
Gone are the days when POS was used for processing card payments only. Technological advancements have made it possible for machines to offer more than just payments. We have evaluated the top features that one should consider before purchasing a POS.
Reconciliation and Reporting
It has been a hard road for accountants to manually balance their books of accounting, especially where large transactions are involved. The best POS terminal should enable accountants to access real-time data that is found on the merchant dashboard and assess the business's performance at a glance. POS with a superior merchant dashboard enables you to access the reports remotely without a physical visit to the store.
Easy Integration with Existing Software
A good POS machine should enable you to integrate with existing software in order to streamline operations and bridge the gap between online and offline sales. POS integration means all your data is stored and managed in one central system.
Excellent Customer Support
The journey of using a POS machine does not stop when it has been successfully put up. At a certain point, you will need to talk to your provider, maybe because of a technical query. Having a provider with excellent customer service support will go a long way to achieving the success of your business.
Business & Operational Costs
For obvious reasons, you need a terminal that fits your budget. Above the cost of purchasing the POS, there are additional rates charged per transaction. These rates vary from one provider to the other. You should exploit what different subscribers offer before choosing a POS.
Post-sale Support Provided
The high turnover rate in the business world calls for the decision-makers to choose a POS machine that is easy to train when they hire new staff. The constant moving of employees from an organization can make it difficult to use the POS machine effectively. This is because new employees come with their own challenges when using the machines which need fresh training. Before buying a POS machine you should find out the type of post-sale support that the provider offers.
Network connectivity is another crucial factor that one should consider when choosing a POS machine. Strong internet connectivity means you will have more transactions and more orders which translates to high sale volume. A machine with multiple connectivity options via Wi-Fi or 4G/3G and ethernet will guarantee smooth operations at work.
Accept Card Payments In Your Business
Sign-Up to Start Accepting Card and Mobile Money payments Today
Get Pesapal Sabi POS